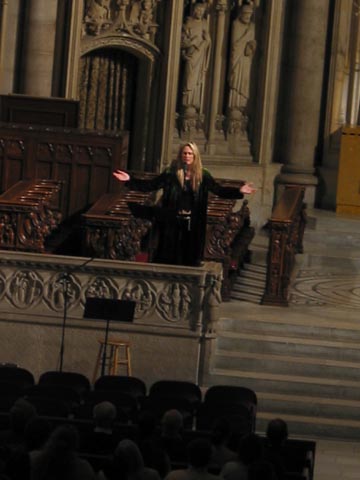 Participant Offers
Sorry, There are no active Offers for this project at this time
Project Highlights
October 11 2002 Congress passed a bipartisan resolution cited as the`Authorization for Use of Military Force Against Iraq Resolution of 2002'.

To acknowledge the passing of five years since the U.S congress gave president George Bush war powers, we present a musical recollection of original compositions and "mash-up" set-piece conflations framed by remixed verses of Bob Dylan's declarative tome "Master's of War." POWER/PLAY had its first incarnation as a commission for Brooklyn Academy of Music Bam Cafe to compliment their film series "Hanoi to Hollywood". Today we continue to explore the unraveling American narrative; The United States of America at war and work; through the lens of the Civil War, WW2 and Vietnam War, up to our current horror.

POWER/PLAY was RECORDED JANUARY 15th 2007

About this project
1.Bite the Hand (York and Lawrence)
2.Masters of War ONE (Dylan)
3.KILLER/RUN
Adhan and Battle Hymn of the Republic
(Golson/Hendrix/Foggarty/Croot/J.W.Howe/ Grand Master Flash)
4.Masters of War TWO - I've got the world on a string (Arlen & Dylan)
5.Galveston (Webb)
6.Masters of War Three (Dylan)
7. The End/Ballad for the Green Beret/Universal solider
(Morrison /Sargeant Barry Sadler & R. Moore/Buffy Sainte-Marie)
8.Masters of War FOUR / Alabama ( John Coltrane & Dylan)
9.Oh Susanna (Stephen foster)
10.Masters of War FIVE (Dylan)
11.Donna ( York)
12. Get a Job/Sixteen Tons/Hard Word /Myth of Sisyphus
(York/Merle Travis/Albert Camus)
13. Rock and Hard (York/Tarshis)
14. Masters of War SIX (Dylan)
15. How Great Thou Art/ Everlasting love
(Reverend Carl Boberg/R.J. Hughes & Gason/Gayden)
16. Masters of War SEVEN Fables of Faubus (Charles Mingus & Dylan)
17. SATISFACTION/MOANIN' (Mingus & Richards/Jaggar)
18. Masters of War EIGHT (Dylan)
19. CHOOSE YOUR WAR with Rally Round the Flag
( Reed/ Stills /York/ Baeder/ George F. Root)
20. STATUE OF LIBERTY SONG/ GOD BLESS AMERICA
(Emma Lazarus/Irving Berlin/ Martin Luther King Jr.
Why I Oppose the War in Vietnam speech April 4, 1967
Beats by Blaise Dupuy)
POWER/PLAY RECORDED JANUARY 15 2007
@ Manhattan Beach Studios
Produced and mixed by Jamie Lawrence
Engineered by Danny Lawrence
Concept and arrangements by Nora York
Nora York: voice
and The AMAZING BAND
Steve Tarshis: guitar
Dave Hofstra: bass
Peter Grant: drums
Charlie Giordano: accordion
Claire Daly: baritone saxophone
Jamie Lawrence: Keyboards
Sherryl Marshall : voice
Get a Job beats/samples:Blaise Dupuy
Masters of War beats and samples by Ethan Ryman
MY THANKS TO THE MUSICIANS WHO MADE THIS POSSIBLE.. I Feel that creativity is a revolutionary act!
"War, inequality and the abuse of authority are also on Nora York's mind these days; unlike most of us, though, this daring vocalist and conceptualist is able to turn her ruminations into fascinating musical explorations. Her latest "Power/Play" uses Bob Dylan's "Masters of War" as its jumping off point; York is sure to take it to parts un-dreamed of. "
— The New Yorker
archived
THIS PROJECT WAS COMPLETED 3/3/2006